If you're looking for state of the art friction stays for your next project, you've come to the right place! Finding the right hardware to bring out the best in your project can be a tough challenge, especially if it's a big job with various installations occurring at the same time. Poorly manufactured or inappropriate components can have a significant impact on the longevity, efficiency and security of your windows and doors.
Here at Cotswold Architectural Products, we're renowned for the world beating quality of our friction stays. For over 45 years, our team has pioneered progressive methods of designing, fabricating and supplying versatile hardware solutions across the globe. With a factory in India which supports our international clientele, we have a fully controlled supply chain that frees us from relying on third parties. No matter where you're based, we're sure to have exactly what you need. Enquire today by filling out our online contact form!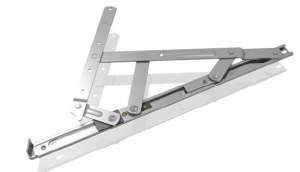 Window Friction Stay Hinges
A friction stay hinge is a mechanism that helps to control the position of a window. Whether open or closed, the friction stay will ensure it remains where it is placed without offering too much resistance when being used. Getting the balance right is vital – too weak, and the window will start to swing freely and may be moved by elements such as a strong wind. Too strong, and the window will become increasingly tough to open and close.
There are various styles of friction stays. First of all, you'll need to confirm whether your project's new windows will be top-hung or side-hung, as this determines the type of hardware needed. If you need any advice or recommendations on which kind of friction stays your project will require, don't hesitate to get in touch and our team will be happy to help.
Friction Stay Styles
Your standard friction stay hinge will be set to a typical maximum opening angle that gives the user freedom to ventilate the space without compromising the effectiveness of the window unit. These can be used on an extensive selection of different window models. If there are any safety concerns, you can opt for restricted friction stays which will only open to a modest degree, limiting the space in the threshold.
Alternatively, should the conditions be appropriate, egress friction stays can allow the installation to be opened fully as the arm slides along the stay. This will enable windows to be used as emergency exits, and will also assist in the cleaning of the glass from inside and outside. We offer a broad range of different friction stays which are perfect for any window project.
Our Hardware Supply Promise
We have spent many years growing and evolving in this everchanging industry, developing a wealth of skills and expertise which is now at your disposal. Whether you're looking for simple, reliable hardware for your local project or an advanced assortment of various components for an exciting new building, we're the company for you. Work with our expert team today!
A huge part of what makes our business stand out is the people whom it's comprised of. We value the time, effort and innovation that our team and partners offer, doing our best to support everyone and take our friction stays to the next level. Join the global Cotswold community by making an enquiry – we'll be glad to answer any questions you may have.
Friction Stay Prices
The quality of your windows can be revolutionised with our friction stays! Get started with an estimate for your next project by filling out our online contact form, or if you prefer you can give us a call on 01242 233993. Work with a reliable supplier who will take the time to start a dialogue with you to ensure your needs are met. We can't wait to hear from you soon!